Silver Dynamic AGM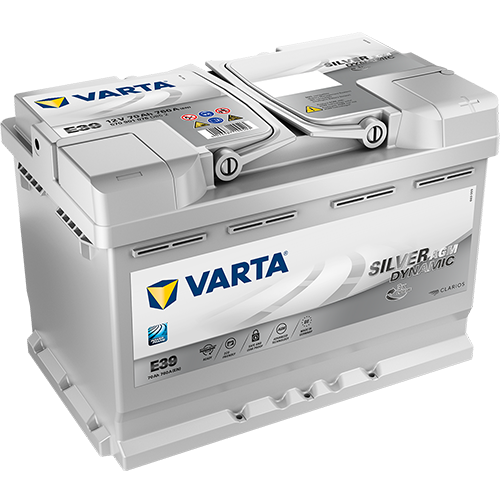 The Benchmark for All Start-Stop Vehicles
The VARTA® Silver Dynamic AGM stands for unparalleled performance: with 3 times the cycle life of conventional batteries, the VARTA Silver Dynamic AGM is the perfect choice for vehicles with the highest energy demands. This can be due to heavier usage, cold winters, hot summers or multiple accessories and equipment. That is why you´ll find a VARTA Silver Dynamic AGM in 70% of newly manufactured cars with start-stop technology powered by AGM batteries.
Silver Dynamic AGM Key Benefits
Unparalleled Performance for Start-Stop Systems
3 times the cycle life compared to conventional VARTA batteries
Highest cold cranking amperes (CCA) enables engine starts even in extreme climates while keeping comfort and safety features functioning
Available in 5 models of varying capacity, CCA and size
Recyclable and produced in an energy-saving way
Keep in mind: an AGM battery must always be replaced with an AGM. VARTA batteries should be installed only by a professional workshop.
COMPARE SILVER DYNAMIC AGM